Buying a new home is a big deal. Whether you're a first-time buyer, or real estate veteran, the moment when they put the key to the front door in your hand is a special one. Besides being the biggest purchase of your life, your new home will be the backdrop of many of your memories. Because it's such a special part of your life, why not commemorate it in some way? Sites like Etsy make finding customized art and decor so easy! Plus, lots of artist and artisans will make custom pieces that will always remind you of your special home. There are lots of different ways to mark this occasion (at every price point!), but here are 5 awesome options. Bonus: each of these would make a fantastic house warming gift!
Custom House Portrait Stamp
The Small Object has been creating the most adorable illustrations for many years, and now she makes custom home address rubber stamps. These hand-drawn houses are so sweet, and I love that you can stamp away on just about any surface! What a great way to celebrate your new home!
Custom House Portrait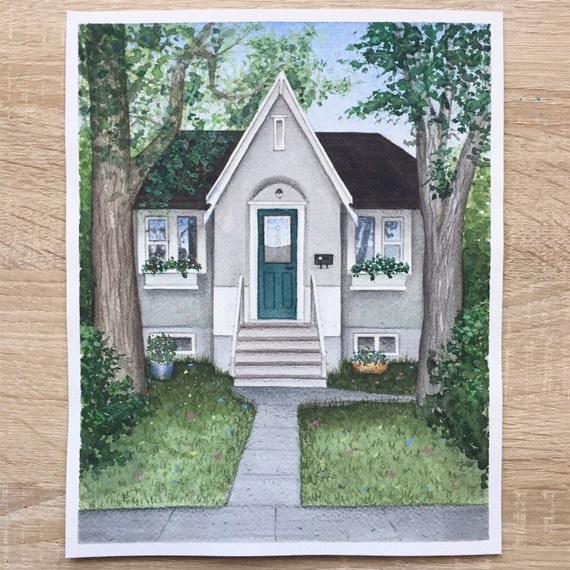 This little watercolor portrait is such a sweet way to commemorate a home purchase. You simply send the artist a photo of your new home, and she will send you a painting in a week or two! I moved a lot as a kid, and I actually think a collection of paintings of the houses I lived in would have made a pretty awesome little gallery on the wall as I grew up!
Custom House Portrait: $55.94+
Custom House Needlepoint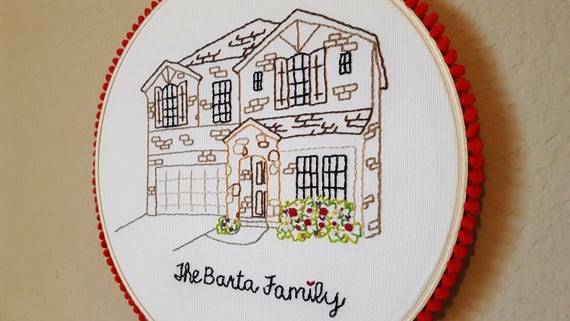 For an even more homespun way to remember a beloved house, this needlepoint portrait is just the thing. I love embroidery, and these house portraits are just too cute.
Embroidered House Wall Hanging, $85
House Guest Book/Journal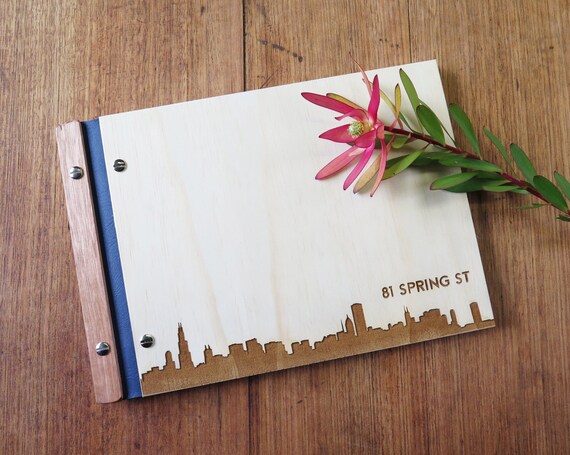 Between dinner parties, holidays, birthdays, and out-of-town visitors, we do a lot of entertaining around here.  I love the idea of containing all these memories in a customized guest book, where friends and family could write a brief note, and I could record details of each little event. What a great idea.
Personalized Neighborhood Play Map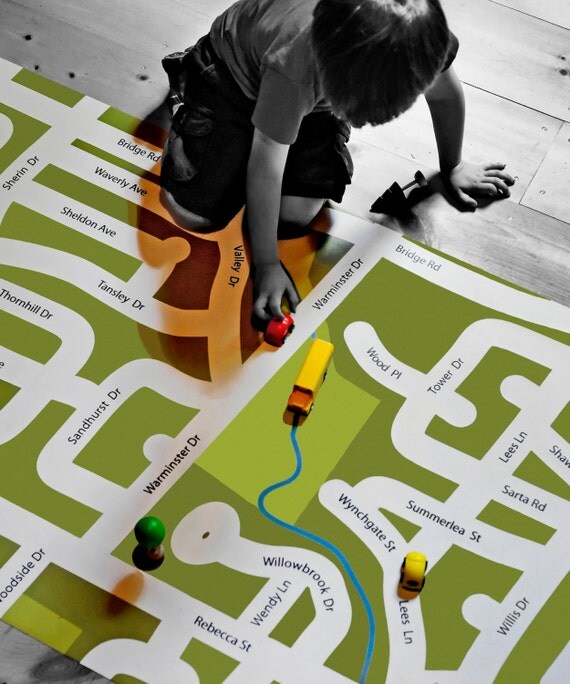 And finally, one for the kiddos. A personalized map of their new neighborhood! This is such a cool way for kids to interact with their new stomping grounds and get familiar with the area. The maps are printed on sturdy vinyl, and the shop also offers vinyl stickers to not parks, playground, shops, and more. I can just imagine seeing this neighborhood filled in with friends' homes, playgrounds, schools, climbing trees, and all the other little special places that make a neighborhood unique. Love it.