Summer vacation is officially wrapping up for our kids. As a parent, I always have mixed emotions about sending my daughter back to school each fall. On one hand, I'm sad that the freedom of summer is ending, and we'll be locked into the rigid school schedule again. On the other hand…Hooray! Somebody give this child something to do!!
One thing that I always think of when kids go back to school is organization. The onslaught of papers, permission slips, art projects, library books, and school lunches is coming! How do we keep it all straight??  Last year, we did an okay job of staying on top of things, but by winter, we had a perpetual pile of papers on the dining room table. Not this year! Here are some ways that I'm planning to stay organized (and sane) when school starts up.
Giant Calendar
To organize our hectic lives, we need more space than a little wall calendar can provide. Each year, we purchase a giant desk calendar and hang it on the kitchen wall. There's plenty of room in each square to fit everything in, and I can easily see what's going on for the month. A life saver for back to school!
Create a Landing Strip
When the kids get home, the temptation is often to just dump everything by the front door and go on with their day. Then, the next morning, everyone is scrambling to find their shoes, coat, umbrella, and backpack before the bus pulls up! Instead, create a place for everything right by the door so that kids can stash their bags and junk. It makes for a tidier house and a more peaceful morning.
Even if you don't have a mudroom, you can create a landing strip for your kids (and yourself!) with just some coat hooks and a small shelf.  This pretty entryway is from OrgJunkie
Assemble a Homework Kit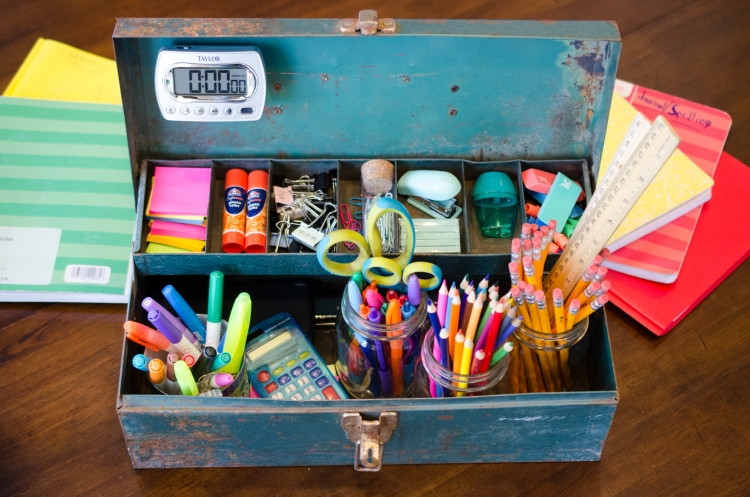 When it's time to do homework, it can sometimes take longer to gather supplies than it does to actually do the work! Put together a homework kit with all the things your kids might need, and things will be so much easier! Different families will need different supplies, based on your child's grade and school, but some basics are universal.
This one is from The Krazy Coupon Lady
Organize Hair Accessories
Ah, I remember when I found out I was having a little girl and imagining all the elaborate hairstyles I would create. In reality, doing my child's hair is the worst part of our morning routine. One thing that would simplify things would be if I could EVER FIND THE HAIRBRUSH. I think we need something like this before  I go ahead and shave her head.
Prepare for Last Minute Emergencies
No matter how well you organize for back to school, your kids will sometimes have last minute issues that can derail your morning. Forms that need to be signed today, a paper cut on the way to school, or a last minute note that needs to get to the teacher can make for stressful mornings. Keep a few essentials in the car to keep the morning running smoothly. Pens and pencils, a notepad, bandaids, deodorant (I see you, middle school parents!), and baby wipes in a zippered case will save you more than once this year!
Deal with the Paper
One thing I did last year that worked really well was to create a binder for my child's work. Throughout the year, whenever she brought home something I wanted to save, I'd punch holes in it or put it into a page protector and stick it into a binder. I slipped her school picture in the front and labelled the spine with her name and grade. Now, the binder lives on a bookshelf and she loves to pull it out and show it to her grandparents and friends when they visit. I'll definitely be doing that again this year.
Your Modern Family does something similar (but a bit more organized than mine!).