Everyone is gaga over bright white kitchens right now. It seems like every kitchen renovation you see is a riff on the same theme: white cabinets and white subway tile accented by stainless steel appliances. Now, white kitchens have a timeless look, but what if you've got a more colorful personality? If you want a more eclectic kitchen, but are worried it will look like a circus, I have good news! If you follow a few simple rules, you can use practically any color on your cabinets, and it will look great!
Start Small
Painting just one part of your cabinets is a great way to introduce some color into your kitchen. Try a bright color on the island or just on the lower cabinets. Painting every cabinet lime green can be a overwhelming, but in this kitchen, the color is isolated to under the counter and it looks beautiful!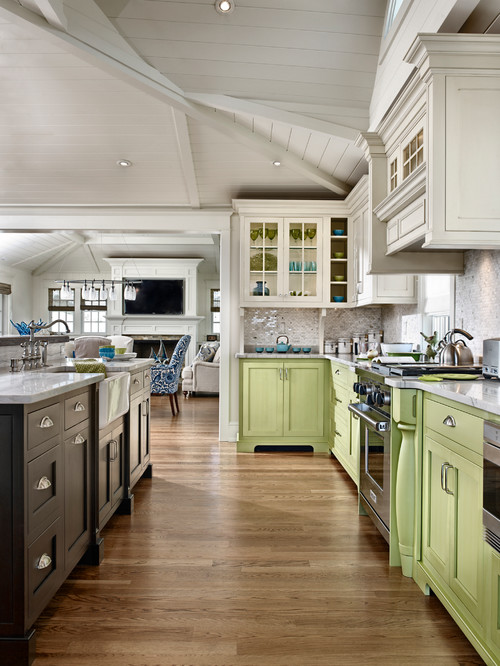 Pick One Fun Color
To keep things looking clean and light, choose just one bold hue. The rest of the elements should remain fairly neutral. The emerald green elements in this kitchen make a statement without being too wild. more strong colors would surely push things into crazytown, but the white cabinets, walls, and counters keep things grounded.
Image from the Jungalow  
Timid? Start with Paint
If you want a more unconventional look, but don't want to commit to blue cabinets, start with the walls! Kitchens are usually super inexpensive to paint, since most of the wall is covered in cabinets and appliances. The small wall space also makes the kitchen the perfect place to experiment with bold colors. The bright blue walls in this one are fresh and pretty!
Image from Apartment Therapy
Just Do It!
If you want to make the plunge, but are still doubting yourself, check out this kitchen. It's lavender and mauve, ya'll. And it works beautifully! This homeowner just went for it. Sure, purple cabinets, walls, and counters may be unconventional, but in this kitchen, they shine. So cool. Not to mention brave.
Image from Apartment Therapy