The eclipse is finally here! Preparing for these crazy 2 minutes this afternoon has reached a fever pitch. I was lucky enough to score some eclipse glasses the other day, and I count them as the most valuable items in my house right now. Whether you are traveling to the "path of totality", or are planning to watch it on the news tonight, it's not too late to create a fun eclipse-themed lunch! No preparation is needed for these celestial party supplies–just pick them up from the grocery store on your lunch break, and you'll be ready for a mini solar celebration!
Moon Pies
Moon pies are the perfect snack to celebrate our own little moon that is making this whole event possible!
Sun Chips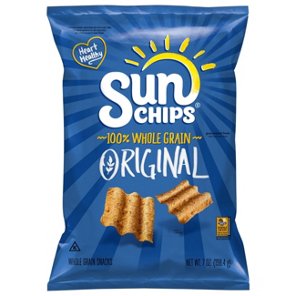 While the sun disappears, you can make some Sun Chips disappear!
Sunny D
And to wash it all down? Sunny D! I haven't had this since I was a kid, but it would be a fun addition to your impromptu party.
Sunflowers!
Grocery store flowers can sometimes be lackluster, but sunflowers are always happy and beautiful. Plus, they look like the corona during a total eclipse! Perfect!
Blue Moon Beer
Maybe cracking open a cold beer at 2pm on a Monday is not for everyone, but this is a once in a lifetime event! Why not?