There are few phrases that get home buyers more excited than "updated kitchen". I don't know what it is, but a good kitchen can certainly make or break a home. Unfortunately, even a low-end kitchen renovation costs many thousands of dollars. While some sellers are ready to put that kind of money into their homes, most are not. In these cases, it pays to find a middle ground. What are some kitchen updates you can do on your own that will make a big impact to buyers, but a tiny dent in the bank account?
Our advice to buyers is to think of small changes they can make to make your kitchen feel less dated. This coming weekend is a perfect opportunity to try some of these affordable kitchen updates!
New Hardware
If your cabinets are in good shape, consider switching out the hardware. Some modern pulls and handles can bring even the plainest cabinets into the 21st century! Here are a few inexpensive options that seem to be designer go-tos:
And I see
these cupped pulls
all over the place–at just $25 for 10, they're quite a bargain.
A New Backsplash
If you can't replace your counters, consider adding a backsplash! I have exactly zero tiling experience, and was able to put up subway tiles on my backsplash a few years back (with the help of YouTube, of course!). However, you don't have to put up tiles to tackle kitchen updates like this one. There are lots of backsplash ideas that will give you a whole new look with simple supplies.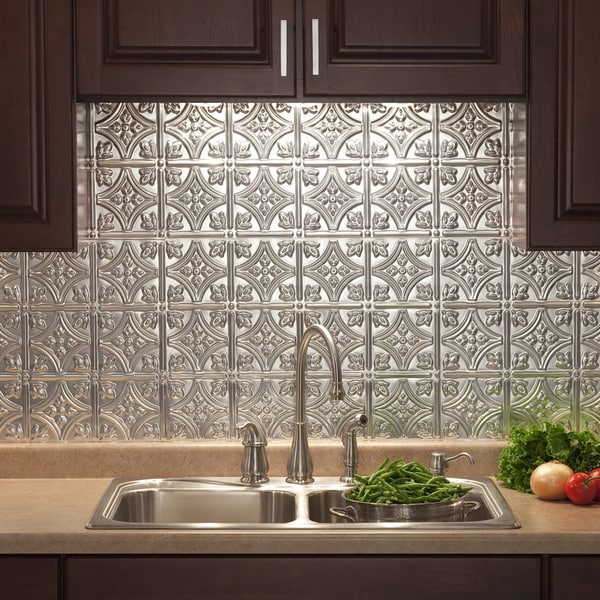 These tiles mimic the look of metal, and they can be put up with adhesive (or just double-sided tape!)–no special tools required!
This homeowner applied white beadboard to her backsplash area, and I think it looks beautiful! She provides a thorough tutorial on her website–and she did her whole kitchen for just $30!!
Replace Lighting
Replacing light fixtures is on one of the simplest kitchen updates out there. It's a snap to do, and makes your whole space brighter and more modern. Plus, new light fixtures can be super inexpensive. You can easily replace three pendant lights and a flush mount ceiling light for under $300.
For example, get a look like this sleek, pretty pendant for just $32.  (Image from Apartment Therapy)
Or, channel your inner Joanna Gaines with this farmhouse ceiling light for under $40! (Image from Liz Marie Blog)