If you really want top dollar for your home, spending some time staging each room is absolutely essential. We always talk to our clients about decluttering and neutralizing decor in order to make their homes look their best. This doesn't mean you have to spend lots of money, but it may be a good idea pick up a few new things to freshen up your space. For bedrooms, new bed linens are an inexpensive way to make an entire room look bright and clean.
A white duvet cover is often the go-to, but white is tough to keep "showing ready" all the time (especially if you've got kids or pets). You can achieve the same fresh look with other simple bed linens that will be a bit easier to keep clean. And, you don't have to spend a ton of money, either. Here are some great, affordable bed linens that will make staging a bedroom a breeze!
Affordable Bed Linens for Any Style
The oversized gingham check on this IKEA duvet cover strikes the perfect balance between farmhouse and modern. I'm not sure how this 100% cotton cover plus two pillow shams is priced so low.
Emmie Ruta Duvet cover, $29.99 (full/Queen)
Chambray is a beautiful, interesting, and neutral fabric to choose for a duvet cover. Plus, it gets softer after every wash!
Cotton Chambray Duvet Cover, H&M $49.99
I actually have this bedding set in my guest room, and it's really pretty! With 5 pieces, all under $50, you can't beat the value, and my guests have all noted how light and fluffy the comforter is!
Scallop Print Comforter set, Target $40.49
This value is also pretty insane. You get 7 pieces in this set–all for under $50! It comes with sheets and everything. I like this simple trellis design–it's formal, but not too fussy.
Trellis Comforter Set, Amazon $48.99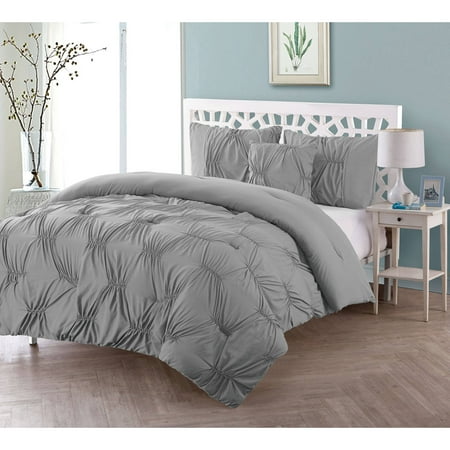 Adding luxurious texture to a room is a great way to make things look more plush and high-end. This comforter set may look expensive, but it's from WalMart! It's a perfect neutral for a guest or master bedroom.
Solid Texture Bedding Set, WalMart $45